RUTS, Trang Campus
1. Faculty of Science and Fisheries Technology
Bachelor Programs : Aquaculture, Food Industry, Environmental Science, Local Environmental Management, Chemical Industry, Fisheries and Aquaculture Business Management, Marine Science
Master Programs: Environmental Management Technology,
Aquaculture Technology, and Integrated Coastal Management
2. Faculty of Engineering and Technology
Bachelor Programs : Engineering and Technology
3. College of Hospitality and Tourism
Bachelor Programs : Hospitality and Tourism, Hotel, English for International Communication and Accounting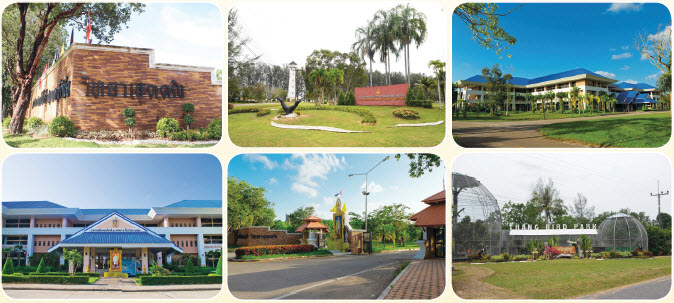 Rajamangala Trang Aquarium (Trang Campus)
The University also offers Rajamangala Trang Aquarium with displays of freshwater fish and saltwater fish, Seashell Museum, dugong and whale shark skeletons, as well as dugong carcasses exhibition. Another thing to impress visitors is the show of dugongs. It happens twice in a normal day, 10.30 a.m., and 14.30 p.m. and 4 times on official holidays, 10.30 a.m., 11.30 a.m., 14.30 p.m., and 15.30 p.m.
The Rajamangala Walkway or Mangrove Forest Trail is also one of RMUTSV's projects established to create an aquatic nursery and educational and research hub highlighting the delicate but essential mangrove eco-system. It is suitable for students, academics, particularly those who are passionate about nature to study and admire its beauty. In fact, the trail consists of 4 trails but 2 are under construction.
Apart from this, the college of hospitality and tourism provides traditional massage which has various types such as reflexology (foot massage) and the royal Thai massage done by the students. It is open daily at the Tourist Service Center, Rajamangala Beach, Trang.
All these efforts reflect that Rajamangala University of Technology Srivijaya Trang Campus not only focuses on academia but also provides real experience for the students to expose them to problems in real situations. This reaches the university's goal of "practical graduate".